No matter what the nature of your business, ensuring that you have the right commercial building insurance is vitally important. 
Commercial building insurance will cover the costs needed to repair and even rebuild your commercial property should it be damaged or destroyed.
In the following article, we will look into commercial building insurance and what it covers and why you should ensure that you are fully covered by a policy today.
What Does Commercial Building Insurance Include?
Commercial building insurance will cover you against the cost of either repairing or rebuilding your business premises. It will cover against eventualities such as burst pipes, falling trees, fire, flooding, storms and theft.
There are two key different types of commercial building insurance; buildings and contents insurance. Contents insurance will cover you for items inside the building including IT equipment and any stock and other equipment used and buildings insurance covers anything related to the building itself.
Typically, commercial building insurance will include;
Property Owners' Liability
Liability insurance will compensate any third party should property damage or injury occur due to negligence. As the owner of the property, you will be liable, as you are responsible for ensuring that the property is maintained.
Loss of Rent
Should your property become uninhabitable due to an insurable event, your insurance policy will cover you for the rent you subsequently cannot collect.
Landlord's Contents
Your insurance policy will also cover the landlord's contents. Essentially, the 'landlord's contents' compared to the 'building' is anything that isn't attached to the building including tables and chairs as opposed to doors, cupboards and walls. 
For example, some commercial properties may be rented with equipment included, such as a fitted commercial kitchen. 
What Will Commercial Property Insurance Not Cover?
Typically, you will find that most commercial property insurance policies do not cover general wear and tear that happens over time, such as office carpet thinning and stains. You may also find that damage caused by an act of terrorism aren't covered, however some specialist insurers may be able to cover you as an additional premium.
Why Do You Need Commercial Building Insurance?
Whilst commercial building insurance isn't a legal requirement, it is important to remember that many mortgage providers will insist that you have the right insurance cover before they agree to give you a loan.
No matter what the nature of the business within your premises, it's always worthwhile considering a commercial building insurance policy to ensure that you're protected against the costs needed to rebuild and repair the premises.
Choosing the Right Commercial Building Insurance
There's various different things that you need to consider about commercial building insurance to ensure your commercial property is fully protected. However you shouldn't rush into purchasing the first or the cheapest policy that you see.
It's important to note that if your business premises is temporarily unoccupied, then it will be much more susceptible to break-ins, crime and squatting, amongst many other crimes. Typically, insurers will exclude unoccupied properties from their policies, so should your property be temporarily unoccupied, you should convert your building insurance to an unoccupied property policy.
Before you contact any insurance providers, it's important to take the time to work out the exact level of cover that you need, as well as any additional features and requirements you are looking for. 
After all, your property can be one of the biggest investments you make and whilst you can easily see your investment returned in time and make profit, it's important that your assets are fully covered and protected. Should you not ensure this, even one problem could cause you to lose your property and resultantly your investment money in one go. The right building insurance will ensure that your investment money is secure.
Related posts
Five Ways Technology Has Revolitionised The Addiction Recovery Industry In The Last Five Years
More and more people are suffering from alcohol and drug addiction these days. It's become a real problem as people…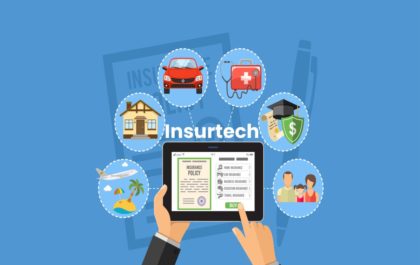 What is Insurtech? – Understanding, Criticism and More – 2023
Introduction Insurtech refers to the usage of technology innovations designed to squeeze out savings and competence from the current insurance…